FIVE KEY POINTS FOR SLED'N
GET THE GEAR: Ensure everyone in your group has an avalanche transceiver, shovel, and probe on their person and knows how to use them.
GET THE TRAINING: Take an Avalanche Skills Training course.
GET THE FORECAST: Make a riding plan based on the current avalanche and weather forecast. The higher the avalanche danger rating, the simpler the terrain should be.
GET THE PICTURE: If you see recent avalanche activity, unstable snow exists. Riding on or underneath steep slopes is dangerous, so pay attention to the snow conditions and terrain above you as you travel.
GET OUT OF HARM'S WAY: Don't go into an unsafe area to help your stuck friend. Only expose one person at a time on all avalanche slopes.   Don't group up in run-out zones or terrain traps.
DON'T DRINK AND RIDE:
BASIC SNOWMOBILE SAFETY
Be sure your snowmobile is in top-notch mechanical condition at the beginning of the winter season and throughout the months of use.
Familiarize yourself with the snowmobile you are driving by reading the manual accompanying the snowmobile.   Dress properly. A helmet, eye protection devices, and adequate clothing, based on current and forecasted weather conditions, are a must. Avoid wearing long or loose scarves, shoelaces, etc., which could get caught in any moving parts of the snowmobile.   Always carry a basic first aid kit.   Always carry a tool kit.   Know the terrain you are going to ride. If unfamiliar to you, ask someone who has traveled over it before.   Stay in areas open to snowmobiles and practice good backcountry stewardship and behavior. In this way you will protect your right to ride. If you are new to an area, speak with others who are familiar with it to learn of any hazards or access restrictions.   Know the weather forecast and especially the ice and snow conditions in the area. When the weather turns bad, turn back. People traveling by snowmobile should be aware that snow on steep slopes is subject to avalanching. Small avalanches can be as deadly as large ones.   When travelling in avalanche prone areas always carry a backpack equipped with a probe and shovel and wear an avalanche beacon. DO NOT carry your avalanche safety equipment on your sled as it may not be available to you if your snowmobile is buried. Make certain everyone else in your party is equipped in the same manner.   Always use the buddy system. DO NOT RIDE ALONE!!   When planning extended trips, prepare a route plan with an estimated time of return. Give this information to a responsible person. Keep as close to your plan as possible.   When making extended trips, carry emergency equipment. Leave your machine only as a last resort, then follow your trail back.     Do not disturb domestic or wild animals. No true sportsperson would stoop to such conduct. If you see a violation of this rule, report it to the nearest conservation or law enforcement officer.   At all times, be sure you have a properly operating lighting system on the snowmobile.   Drowning is one cause of snowmobile fatalities. When not familiar with the thickness of the ice or water currents, avoid these areas.   Do not consume alcohol when operating your snowmobile.   Join a local Snowmobile Club. This will acquaint you with others with whom to make trips and they are usually prepared to help people in distress.
OTHER LINKS
On-Line Official B.C. Snowmobile Rider Safety Education Course
BCSF's page on "Always be Prepared" for sled'n in the Mountains.

PLOWED ROADS
No sled's allowed on a plowed Forest Service Roads!   It is not legal and it is not safe.  Plowed FSR's in our area are very active with mining trucks.  You will also be fined if caught sled'n on a plowed FSR
AVALANCHE TRAINING
AVALANCHE CANADA
Throttle Decisions Video that shows basic's of Avalanche Safety and some awesome sled video's….  Avalanche Awareness Video
Avalanche Safety training… do you really need it ?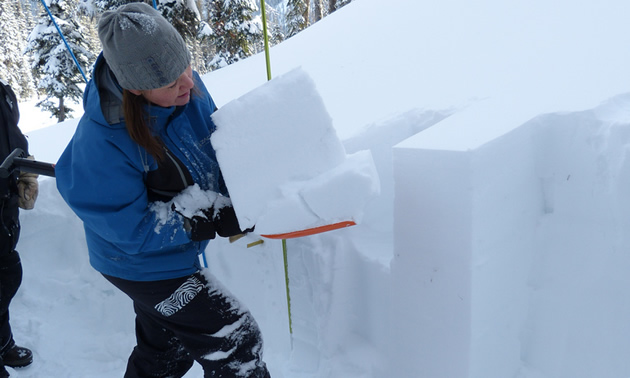 Coqsnow offers AST-1 courses each season, watch EVENTS box on Home page for up-coming courses.
CREATING AN AVALANCHE